You can share a personalized CAMPUS playlist—composed of either complete films or chapters you've created—with your students.
To do so, please make sure that you are logged in your CAMPUS account. Once you are logged in, go to the page of the film you wish to share and click on the Clock symbol under the film's description: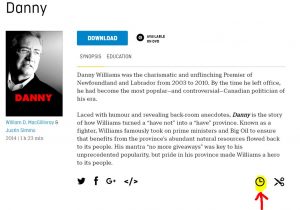 You will then be asked to create a playlist or to add the film to an existing playlist: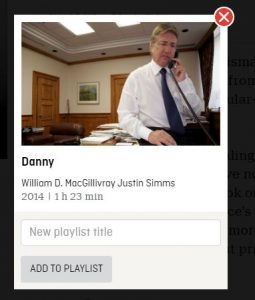 Once you've added the film to a playlist, you can click on the link "My Playlists" located on the left margin of the NFB page: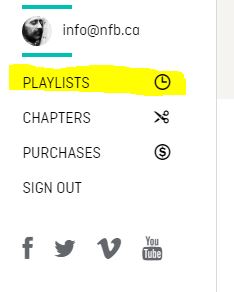 You will be redirected to your playlists page. Select the playlist where you saved your film. Once there, you can click on the link "SHARE THIS PLAYLIST":

By clicking on it, a sub-box will appear with a URL link: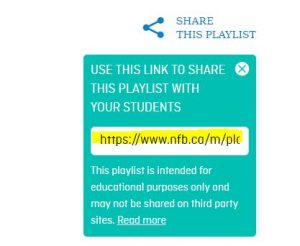 You can copy this URL and send it to your students, either via email or by posting it on your course's website.
We ask that you only share these URLs on educational platforms (e.g., e-mails to your students; Learning Management Systems; private classroom sharing blogs and sites) and that you refrain from sharing them on third-party sites. For more detailed information about sharing playlists online, please click here.